Tired of headache, jaw pain or toothache?
If you recognize one or more of the following complaints, orofacial physiotherapy, may be the solution! Please feel free to contact us to see how we can help you to get rid of you complaints.
Dry-Needling is very effective
Peter put pressure on my jaw muscle, at the exact place where I had head and neck pain. Thanks to the advices, exercises, massage of the jaw muscles and the dry needling, I do much better now. The complaints of headache and neck pain is almost never there anymore.
Nienke Jonker
Much less pain!
After years of struggling with pain and several doctor visits later, I met Peter from OFCN. After a few treatments my pain started to get a lot less!
J. Klaasen
Finally got rid of the toothache
After many years of misunderstood toothache, my toothache has decreased al lot due to the treatment at OFCN. I can finale eat on both sides again! Dry needling is not pleasant, but it was very effective for me.
Mrs. van der Berg
Fit throughout the day
After a workday I often suffered from the feeling of a tired neck and head. I came to Peter on the advice of my dental hygienist. After he gave me tips and tricks and a couple of treatments, I don't suffer at the end of the day anymore.
H. de Vries
No more headaches
At the point my regular headache started to bother me at work, I mentioned it to my dentist. She referred me to Peter. He touched a muscle in my neck and the headache was immediately triggered. After a few treatments I already noticed that the headache was less severe.
Mr. van der Meulen
Relaxed jaw
During the examination by Peter it became clear to me that I was in the right place. He pressed on muscles that caused my toothache, jaw pain and headache. One year after the last treatment I am still symptom free. I never thought this would be possible for me.
Ruben
OFCN (Orofacial Physiotherapy Centre North) is a practice completely focused on complaints in the neck, head and jaw region. All physiotherapists at OFCN have, in addition to their general physiotherapy education, their master in Orofacial physiotherapy. This makes OFCN the only centre in Groningen that is fully specialized in orofacial complaints.
Peter van Houdt, BIG 59910117404
Melanie Dilling, BIG 19915876904
We are reachable by phone on 050 – 700 1981
You can also sent an email or a whatsapp.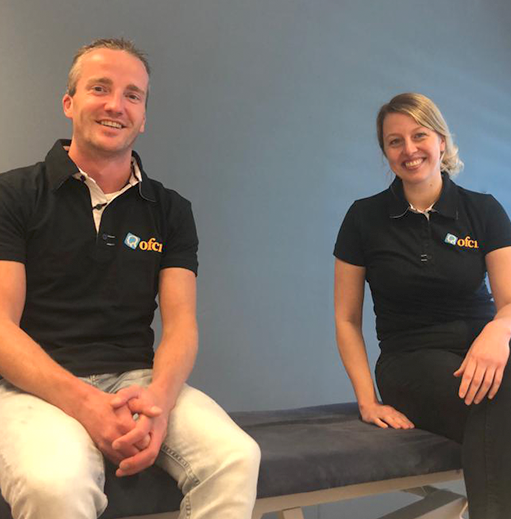 What we often see in people with neck and headache complaints is a decrease in proprioception. Proprioception is a difficult word for the feeling in the body that ensures the correct motor skills and balance. It is also called position sense, so how are you or a...
Lees meer
Headache
Muscle pain of the head can be one of the causes of tension type headaches. An orofacial physiotherapist is a specialist in examining and treating your throat, jaw and neck muscles. During the intake it often appears that headaches are also part of the experienced complaints. Often these patients now see the headache as an acceptable part of their lives.


Tinnitus (ear ringing)
There are many causes for tinnitus, the most common one is malfunctioning cilia in the ears. In 25% of the cases the musculoskeletal system of the jaw- and/or nekcmuscles has something to do with the appearance of tinnitus. In this case the orofacial therapist can be helping in reducing the complaints that comes with tinnitus.
Throat and swallowing complaints
Throat and swallowing complaints can arise from an disbalance in the muscles involved in swallowing. This imbalance can also lead to neck complaints. This can have various causes, such as incorrect oral behaviors and stress. Orofacial physiotherapy can help restore balance in the muscles involved in swallowing.
Dizziness
If you suffer from dizziness, it can be very annoying. Dizziness can have various causes. Dizziness can occur with migraines, low blood pressure, or as a side effect of you medication. In that case there is, unfortunately, not much we can do. If you suffer from dizziness, without the above, your dizziness is maybe present because of other mechanisms, such as the way you breath, BPPD, etc.